A hypocrite originally meant an actor on a stage, who of course, would bear a false name, take on a false character, live a false life, all for the purpose of achieving a very good performance. In other words, it sets out to entertain by falsehood. From this we see that hypocrisy is not only about pretending, but also about setting out to create a false impression of what one is not, living a false life, and even deluding oneself. For anyone living in that manner we can say that he or she is standing on the plank of hypocrisy; and someday, no matter how long it takes, that plank (stage) will give way to reality.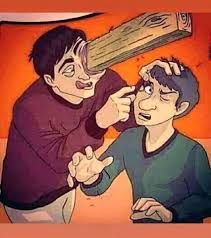 source
Living in Nigeria and following the politics of the government throws one into a quagmire of sorts. You hear the same rich government calling on poor citizens to make sacrifices for the good of the country while they go on living lavishly and brandishing it shamelessly before the citizens. They campaign for made in Nigeria goods while using everything made outside of Nigeria including the extremely ridiculous. In our churches, we have men and women of God calling on their highly credulous followers to do things and carry out observances that they don't bother to try. We men and women of God see ourselves as no longer ordinary Christians and so the sacrifices we demand of others we do not care to make. So it trickles down to our interpersonal relationships in which we judge others harshly and expect perfection of them, while we ourselves are weighed down by a heavy burden of worse imperfections. And when we are culprit we expect everyone including God to understand. That is standing on the plank of hypocrisy; remember always, the Golden Rule (Matt 7, 12).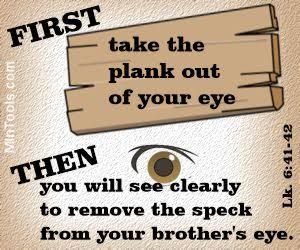 source
How about our vows? We vow one thing, we do another; we promise and make no effort to keep it; we ourselves do not honour our own words, how can heaven honour them? Some people are not true to themselves, to any relationship, to any organization or institution, there is just so much falsehood all about them. It's time to break that plank of hypocrisy and come down to earth, to reality; there we will meet God. We can never expect to meet God with falsehood, with our stage names or characters. We can only meet God as we really are, in real life, away from the stage or plank of hypocrisy.
We must be ready to tell the truth, accept the truth when told, and live out the truth in our own lives. Only then can the cycle of hypocrisy be broken for good.
Peace be with you!